Rumble in the Jungle Workshop July
11jul2:00 pm6:00 pmRumble in the Jungle Workshop July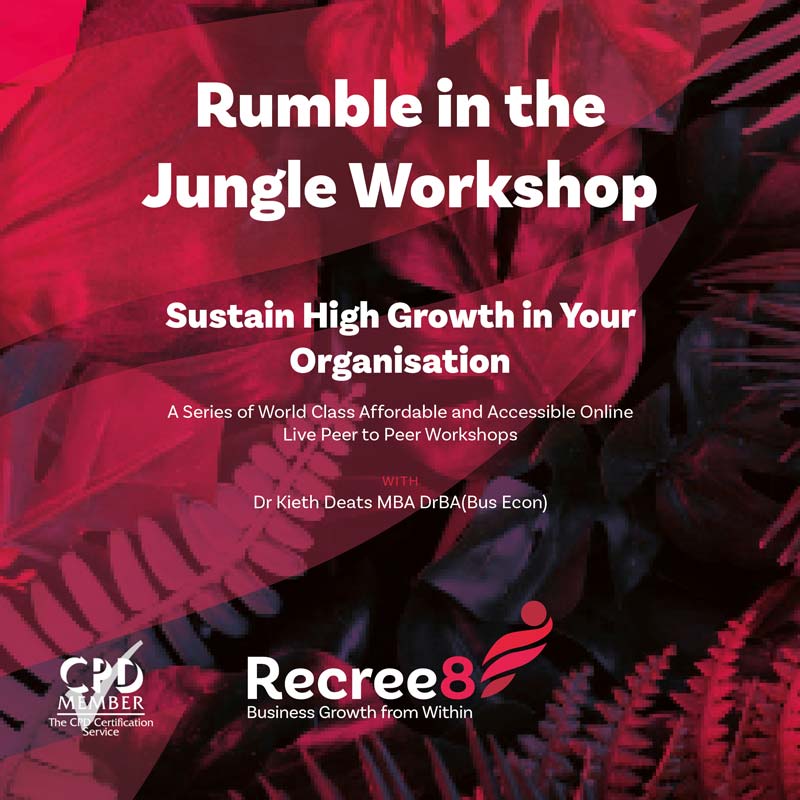 Event Details
About this Workshop
This Workshop runs monthly on Tuesdays at 2 pm BST for 4 hours, and is limited to 8 participants.
This World Class Online Live Peer-to-Peer CPD Accredited Workshop ( https://cpduk.co.uk/explained ) is a huge opportunity for Business Leaders, Coaches, and Consultants, and Individuals to Roll up their Sleeves and Works on themselves and their businesses. Participants are given the ability to Step Back from the Day to Day. Ideal for Business Professionals are looking for safe space to explore, innovate, teach, learn and participate in confronting dilemmas around leadership and growth.
The Workshop is personally facilitated by Dr Kieth Deats MBA DrBA, a seasoned veteran in business leadership and Multi Million turnarounds.
We enable professionals on their journey to sustain individual and business fulfilment of preferred prosperous work-life futures. Obtain high growth in your organisation and learn from experience and knowledge about leading through 'Using Our Minds vs Our Minds Using Us' to overcome the mental lockdown and untested assumptions we hold. We engage in a self-critical process of exploring how we can help each other shape high-value propositions focusing on the core business practice aspects of Modern and Post-Modern Leadership, Current Thought Leadership in Strategy, Marketing, Finance, Operations, and People, and Leadership Centric Performance to achieve
Sustainable Growth. This workshop is aimed at helping you overcome feeling isolated, frustrated, and alone with flagging revenues, pressure on your bottom line, and struggles with keeping yourself and your team motivated. You'll be working in a psychologically safe space with peers to overcome the obstacles and barriers to growth with a collective of experienced businesswomen and men.
Deliverables: A Road Map, with Strategies, and Actions needed to take to overcome the obstacles and assumptions we make by exploring, innovating, and navigating uncharted waters.
Time

(Tuesday) 2:00 pm - 6:00 pm(GMT+01:00) View in my time
Ticket Section Title
Tickets are not available for sale any more for this event!