Building Your Own High Value Networks August-Sept
16aug2:00 pm5:00 pmBuilding Your Own High Value Networks August-Sept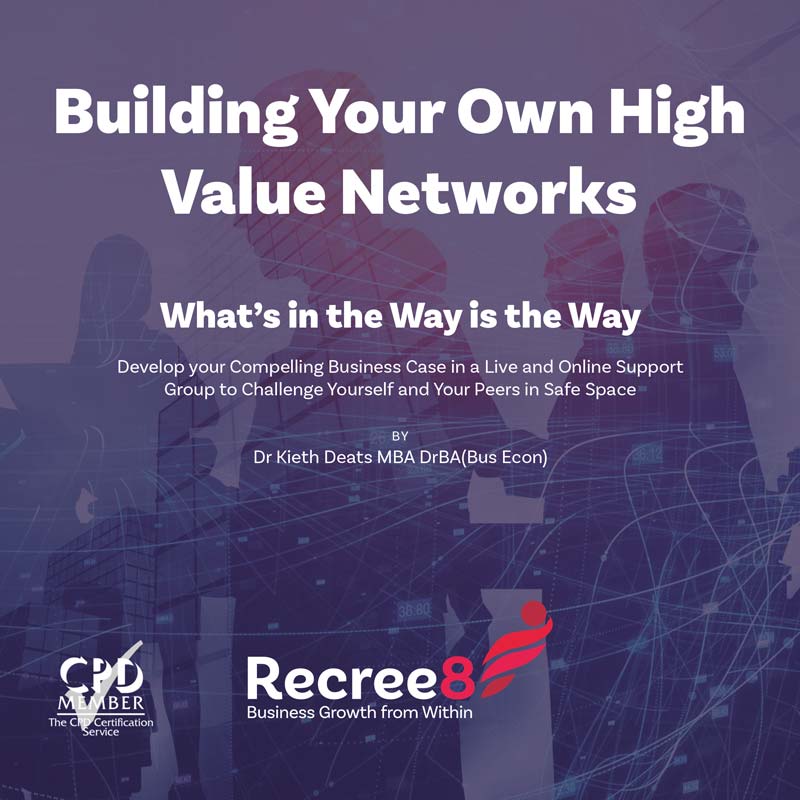 Event Details
About this Event
This Online Live Peer-to-Peer CPD Accredited Workshop ( https://cpduk.co.uk/explained )  runs for 4 consecutive Wednesday afternoons for 3 hours at 2 pm BST. This Workshop is ideal for individuals, groups, leaders, entrepreneurs, consultant and coaches who are networking averse. The Workshop provides safe holding space for discussion, debate and learning. Remember to add these dates to your calendar…
| | |
| --- | --- |
| 16/08/2023 | PART 1 Starts at 2 pm BST and Ends at 17h00 BST |
| 23/08/2023 | PART 2 Starts at 2 pm BST and Ends at 17h00 BST |
| 30/08/2023 | PART 3 Starts at 2 pm BST and Ends at 17h00 BST |
| 06/09/2023 | PART 4 Starts at 2 pm BST and Ends at 17h00 BST |
Getting professionals together to discuss and understand the interpersonal, relational, and commercial issues confronting sustainable growth and their employability. Designed to help develop your compelling business case while challenging yourself and your peers. Together, we explore behaviour, commitment, fee structures and ethics. We question and search for answers to what effective networking is and invite you to roll up your sleeves and work with us.
Through a process of parallel learning, each participant presents a business case and dilemma, and engages in the psychological, social, and commercial benefits of engaging with each other – the focus is on unfiltered conversations. This Workshop stimulate participants to use Collective Knowledge to engage on a Digital and Face-to-Face platform to deliver on a framework that has Global, National and Local Reach. This is a Group Coaching, Mentoring, and Learning platform to enable participants to Build their own Tribe, ask for help, design an online platform for engagement and onboarding new business, and culminates in delivering on a Compelling Business Case and Killer Presentation, that will be put to the test in the Group Breakout Rooms, to shape and get feedback from participants.
Deliverable: An Updateable Framework to onboard Clients, with a well-practiced and Effective presentation.
Virtual Event Details
RUN
Event has already taken place!
Time

(Wednesday) 2:00 pm - 5:00 pm(GMT+01:00) View in my time
Ticket Section Title
Tickets are not available for sale any more for this event!