I like to work with authentic people who are passionate about what they do, and who want a safe, fun, and highly productive work environment. I'm a capable coach and facilitator with proven ability gained during 30+ years in leadership roles in the public, private and third sectors. I have spent some of my career working with horses and the remainder in leadership and change management roles in communications and education. It's great to be able to bring together my passions for horses and helping people achieve their full potential through our Leadership with Horses experience.
My background is in; high achieving sales in a rapid growth mobile phone sector, quality systems management (including ISO 9001 and Investors in People), and being brought up in 3rd generation family business, bring valuable lived experiences and empathy for managing change with individuals & teams. I am a Fellow of The Chartered Management Institute and an Associate of Intrafocus who specialise in supporting balanced scorecard systems to monitor organisational performance on financial and non-financial measures. Recent CPD also includes, Harvard ed X Unlocking the Immunity to Change and MIT x U Lab: leading from the emerging future.
My Tool-Kit Includes:
Strategy Mapping Workshops to create a shared mission, vision, and values among leadership teams and key staff.

One to one coaching providing support and challenge that; encourages reflective practice, enables increased self-awareness, and offers a safe space in which to explore barriers to change and growth.

Equine Assisted Learning (EAL) and development to accelerate progress with executive & business coaching programmes.

Support to establish a Balanced Scorecard to evaluate organisational performance using both financial and non-financial measures.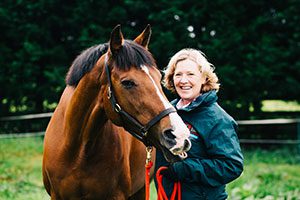 My way of working is informed by; a Post Graduate Certificate in Executive and Business Coaching (
EMCC
Senior Practitioner level) from Leeds Beckett, an MBA from the Open University Business School, PRINCE 2 Foundation Project Management,
Palladium
Kaplan and Norton qualification in Balanced Scorecard strategy execution, and a QQI Certificate in Equine Assisted Learning Facilitation gained at
Festina Lente
(which means "make haste slowly").
Core values that influence the way I operate include; being ethical, encouraging freedom of choice, promoting health and well-being of individuals and organisations, and I operate with high levels of integrity.  Excellence has a priority over perfectionism, work has to be fun, and I value a coaching culture. I get a real kick out of helping individuals and teams to achieve their full potential.