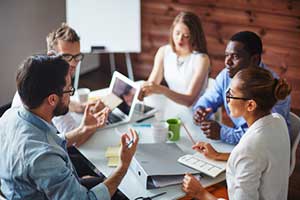 We are an equality based practitioners committed to seeing each other and our clients success in relationships of willing partnerships. Our commitment is to enabling and building prosperous and profitable enterprise.
Our influencers amongst others are Harvard's Professors Robert Kegan and Lisa Lahey, acclaimed thinkers in the practice of Adult Professional Development and Leadership Development whose theories and practices challenge the effectiveness and value of leaders and their impact on organisational life. We commit to facilitation's with Leadership and organisations by connecting to a common language and shared framework that affords bringing private thoughts and feelings into the workplace and bind these tightly in the re-employment of targeted, focused personal improvements.
Our philosophy engenders bringing the critical feelings to the table and creating an environment of willing partners, colleagues and people we can talk to and who will listen to us. We consider that Leaders and organisations are a rich repository of collective experiential knowledge accessed through a social process. We encourage dialogue and openness in the exploration of finding the most viable approach to business growth.
We believe that effective leaders:
Consider the success of the business as the responsibility of every member of the team. Results come from the collective formal and experiential knowledge of the team. The team as is a valuable resource, and their knowledge continues to increase and become more valuable over time.

Receive strategic direction from the organisation and its people. Trusts that individuals have the ability to take the lead, and form high performing groups and subgroups through peer interaction. Encourage autonomy, and openness, by being supportive and challenging, as a non-threatening approach to personal and professional performance.

Considers their own uncertainties are a source of learning for themselves and individuals and make visible and transparent the limits of their knowledge and experience. See the other as an equal able to express his/her opinions and ideas as possessing unique and valuable knowledge.

Encourage notions of mutuality, reciprocal action, and inter personal-ism and considers their teams as equals in contribution to performance. Consider the vision of success as one shaped by the organisation which has collective organisational priorities. Enables priorities to be shaped through workshops with agreed action programmes that are visible and used to continually reshape and change growth performance action programmes. Set out collaboratively shaped set pieces for performance that are collectively owned to enable extra-ordinary performance.

Live the leadership experience by leading and being led through collectively shaped programmes of action.
If you would like to find out more about how we can help you and your organisation to evolve and grow read more about our programs below.