Recree8 can help you get more done in less time helping achieve 'bottom-line' goals, whether or not your organisation embraces double or
triple bottom line
principles.
Our work echoes that of Stephen Covey who explains that trust—and the speed at which it is established with clients, employees and constituents—is the essential ingredient for any high–performance, successful organization.
93% of communication is non-verbal.  Learn authentic and highly effective leadership from those whose lives depend on it!  In the wild, each time a horse makes a noise it gives a clear signal to predators of the location of the herd.  So horses have evolved a highly effective non-verbal communication system and they only respond to leaders they trust.

"the workshop sessions were just what we were looking for. They helped build confidence in key staff and for the first time we have just achieved 100% in the performance target that is most critical to our cash-flow. I'd recommend Julie-Anne to anyone looking to grow their business. It was very helpful for us to get an outsiders view. It helped us to get buy in from the team – no matter how efficient and expert you are at a task yourself, you need human 'buy-in' …"

"Julie-Anne demonstrated great intelligence, pragmatism and insight…..her knowledge of Balance Scorecard and how it can be adopted for business improvement is first class. I found her down to earth & realistic approach very refreshing …"

"the strategy mapping helped us to gain agreement on the strategic priorities for our collaborative venture to develop and implement a Strategy for Lymphoedema in Scotland"
Equine Assisted Learning (EAL) and Development
My first experience of Equine Assisted Leadership was as a delegate on a work-shop with Lisa Brice at Horses for Courses. This inspired me to enrol on a course to blend together my knowledge of horses as a BHS Accredited Professional with my experience as a business and executive coach. During a year long training programme at Festina Lente in Co. Wicklow I gradually unlearned some old practices around horses to be more in tune with their more subtle communication signals. I had a near miss in 2013 when I was kicked in the head by a horse that I knew very well, and I thought for a year or so that it was probably time to hang-up my boots.  The new learning I gained at Festina Lente has enabled me to fully enjoy being around horses again and listen much more effectively, to both horses and people!
Upcoming Events
Click below for programme dates and booking information.

Kieth Deats
Date: Monday 23rd April 2018
Time: 9.30am – 4.30pm
Location: Shiresmill Therapy Riding Centre, by Blairhall, Fife, KY12 8ER
What is EAL?
I feel the need to say quite clearly that EAL is not '
therapy
'. Whilst in some circumstances there can be therapeutic benefit, therapy work can only be facilitated by a fully qualified psychotherapist. I, and my fellow facilitators and coaches, work alongside horses, as equal partners in the facilitation process, to gain instant insights into practices that participants may wish to consider changing.  Often an increased self-awareness can be developed in much less time than through regular coaching interventions.  We find that EAL is most effective as part of on-going personal or professional development plan which can support participants through barriers to  change.
Working with a group of horses is an ideal way to gain insight into group dynamics, leadership and difference. Observing a herd is experiencing the original social network – becoming part of it shifts the dynamics, and this is where you really find out about you!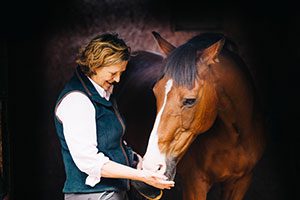 We show how understanding others starts with self-reflection, and how new insights can be applied effectively with immediate results.
We work with you to ensure that each moment you spend with us is directly relevant to what you want to achieve. We design the content to meet your needs, and will take time to learn about individuals prior to arrival.
Being in coaching space in the presence of a horse can help to quickly surface insights that will help you to:-
Be an effective leader even when you are out of your comfort zone

Use your leadership strengths to overcome barriers to change

Understand the importance of body language and communicating with clarity

Develop a collaborative team

Manage stress

Develop trust and to be trusted
and so much more….. As prey and herd animals horses live only in the moment and react to what lies in their hearts not in their heads.   The horses' entire communication system is built around responding to each other's emotions,
they can't
repress them.  The simple fact is that
horses don't lie!
.  Horses can remain completely attentive and present in relationships, where sometimes people will struggle.  Because they respond on an unconscious level, they do not think about relationships the way people do. 
Therefore rejections are not personalised…..
Where being pushed away may be interpreted as rejection by a person, to a horse it's an implied expression of freedom.
So for me one of the most significant competencies that people can achieve, through the mere presence of a horse, is the ability to improve communication skills.  Not only can it improve awareness of non-verbal signals, it can also serve as a catalyst for improved listening.  This is achieved through by being present in the moment, as horses are, and deeply listening to what is being said whilst observing the congruence between body language and the spoken word.
During my 30+ year leadership career, I have noticed parallels in the shift in leadership approaches, and a move in the equine sector to work more harmoniously with horses through less directive coaching & training.  This is very much in line with  contemporary approaches to leadership and transformational change like Otto Sharma's U Lab based upon mindfulness and presencing, and emotional intelligence competencies including:-
Self-Knowing
Self-Confidence
Straightforwardness
Self-Reliance
Self-Actualization
Optimism
Relationships Skills
Empathy
Self-Control
Adaptability
Curious to find out for yourself?
Horses need us to be our best selves.  …to teach your horse to be calm, responsive, trusting and brave, you must first acquire those qualities yourself.  You can't just appear confident and in control. Once you learn this skill with a horse you can use the same appraoch with people.
Contact julie-anne@recree8.com to arrange a taster session or click on the button below and fill out the feedback form.